Upcoming
Plant propagation workshop
During this year, in conjunction with the BNT a plant propagation workshop will be held to kick off a propagation project in which BBS members along with other interested organizations will work to grow endemics and natives for the BNT and BBB. Contact bdabotanicalsociety@gmail.com for further details.
Please consider planting native/endemic plants in your garden to feed the pollinators and to support the local ecosystem.
BBG Endemic/native Area
BBS has taken over care and maintenance of this area and have successfully introduced a number of quite rare species including Bermuda Sedge, Bermuda Ink Berry and St John's Wort. Researched and paid for permanent interpretive sign. Contact bdabotanicalsociety@gmail.com for further details.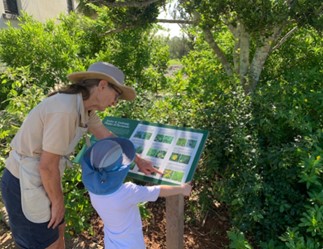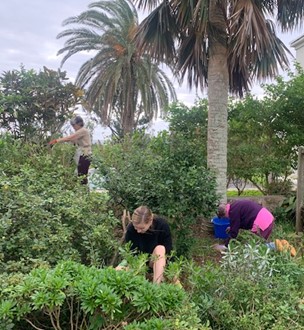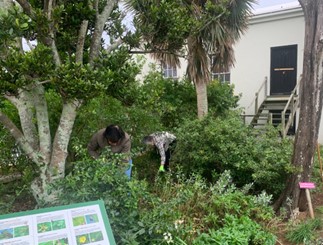 Taskforce members busy at work!
BBS Steering Committee
Members of BBS are also on the Bermuda Botanical Gardens Steering Committee, and volunteering as Friends of the BBG – at the moment working on clearing the Cacti House of invasives, along with the students who are working on a school project on invasives and their control. Volunteers can use this link to sign up to events using this link.
Youth Involvement
The BBS School Award for Botanical Sciences was inaugurated last year. BBS members are presently assisting BBG Parks Staff with a practical student project 'Management of Invasives' at the BBG; worked with BEN giving curriculum linked, guided tours to school children.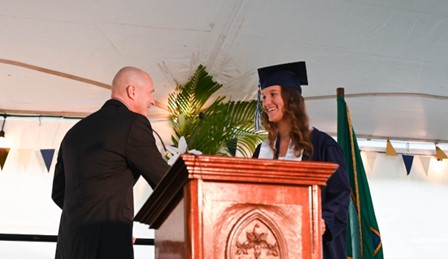 One of a number of 2023 BBS School Award for the Botanical Sciences – Education Officer, Gary, presenting to BHS Student for her research project 'Are communities more biodiverse at inland or coastal parks in Bermuda'.
Past events
Easter Puzzle Activity (April 2023)
We began this initiative last year, whereby a series of signs (created by BBS members) were posted along the walkway to Masterworks, inviting participants to solve the puzzle and send in their answer.
Memorial Planting (March 2023)
Earlier in the year, a Memorial Planting took place in recognition of the work that Society member, Christine Watlington had done for the Society and for Bermuda generally.'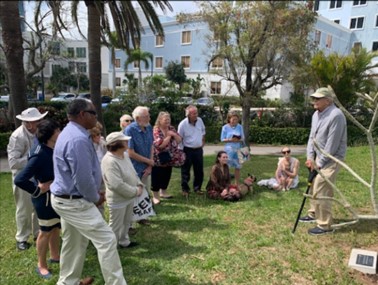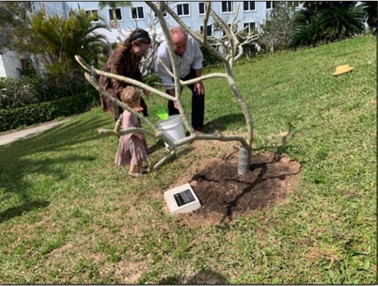 Palm Curator (February 2023)
2023 BBS brought in Andrew Street, Palm Curator, Montgomery Botanical Gardens, to assess the BBG Palm Collection, ensure correct naming, meet with Parks staff to discuss care and maintenance of the palms; visited several government parks and private palm collections to identify and correctly identify them; led guided tours; gave free presentations to BBS members and general public; worked with National Trust.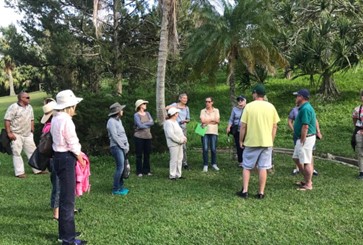 Members attending a talk by Andrew Street on Palms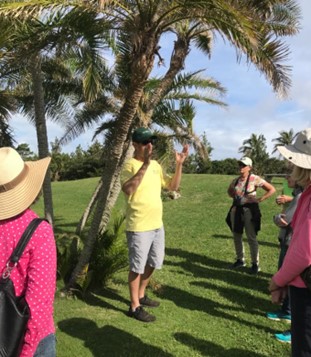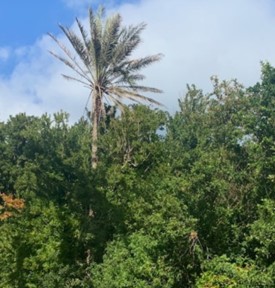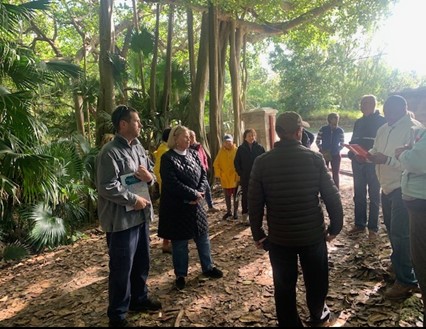 BBS members with visiting Montgomery Botanical Gardens, Palm Curator Andrew Street, at Southlands main gate. Ficus benghalensis,
Tree Tales Initiative – Series 3 (February 2023)
BBS has researched information on 3 areas in the BBG, commissioned informative signage for trees in these areas, the latest being the Palm Collection. Refer to 'Projects' for more details about this initiative and other collections that we have done a Tree Tale series about.
BBS Tailgate (February 2023)
The BBS Members' Tailgate Swap & Chat was a very enjoyable – and rewarding! – afternoon. Pots, plants, books, tools, and perhaps even more beneficial – ideas and information were exchanged.
Presentation: Assessing the extinction risk of Bermuda's endemic plants (January 2023)
A presentation was held in January 2023 by Conservation Officer on the Extinction threat to Bermuda Endemic Plants. The presentation was in celebration of International Day for Biological Diversity, and following the presentation, members did a short walk around the gardens to the endemic flowerbed.
Guided Tours (occurring throughout the year):
2022 – 2023 various guided tours for BBS members and others. Tours included:
White's Tree Farm (April 2023)
The visit to White's Tree Farm was most enjoyable and informative. A very varied collection of trees, shrubs and palms. The early flowering trees were a welcome sign of spring. This launched in September 2022 and posters can still be seen in the Gardens.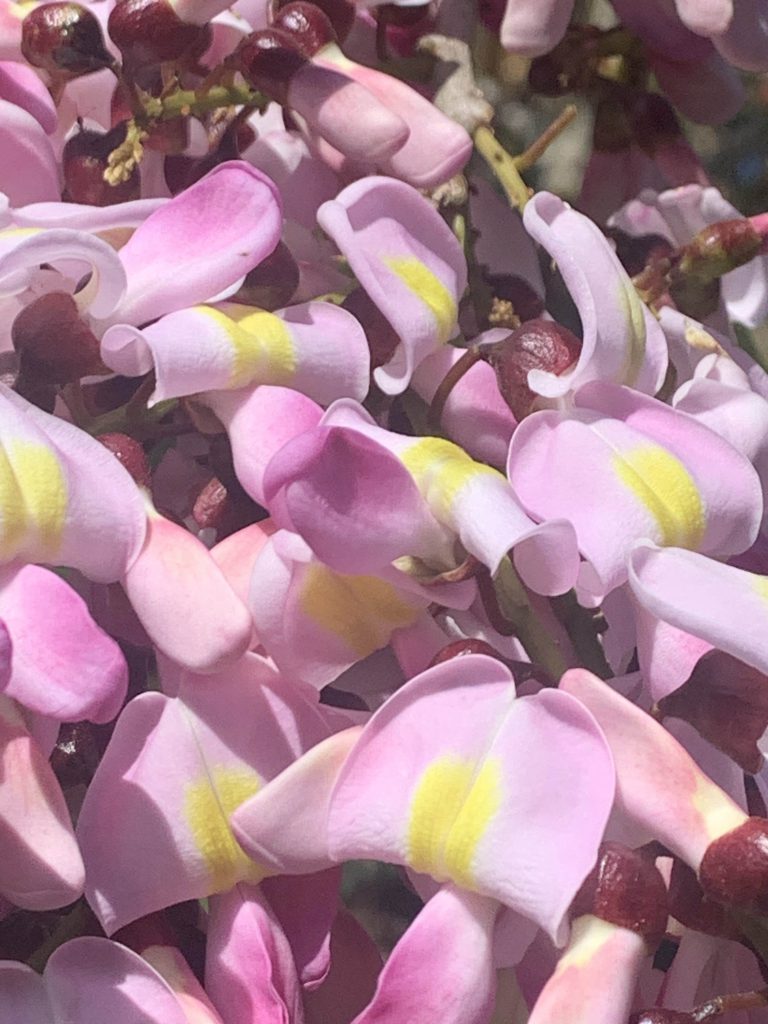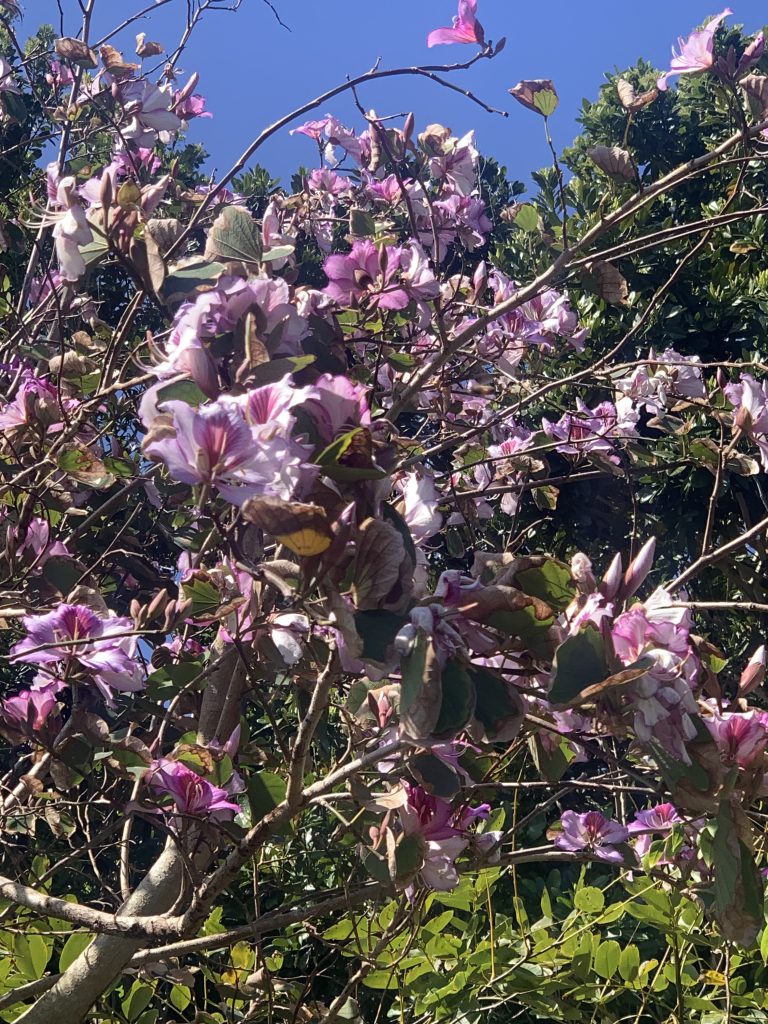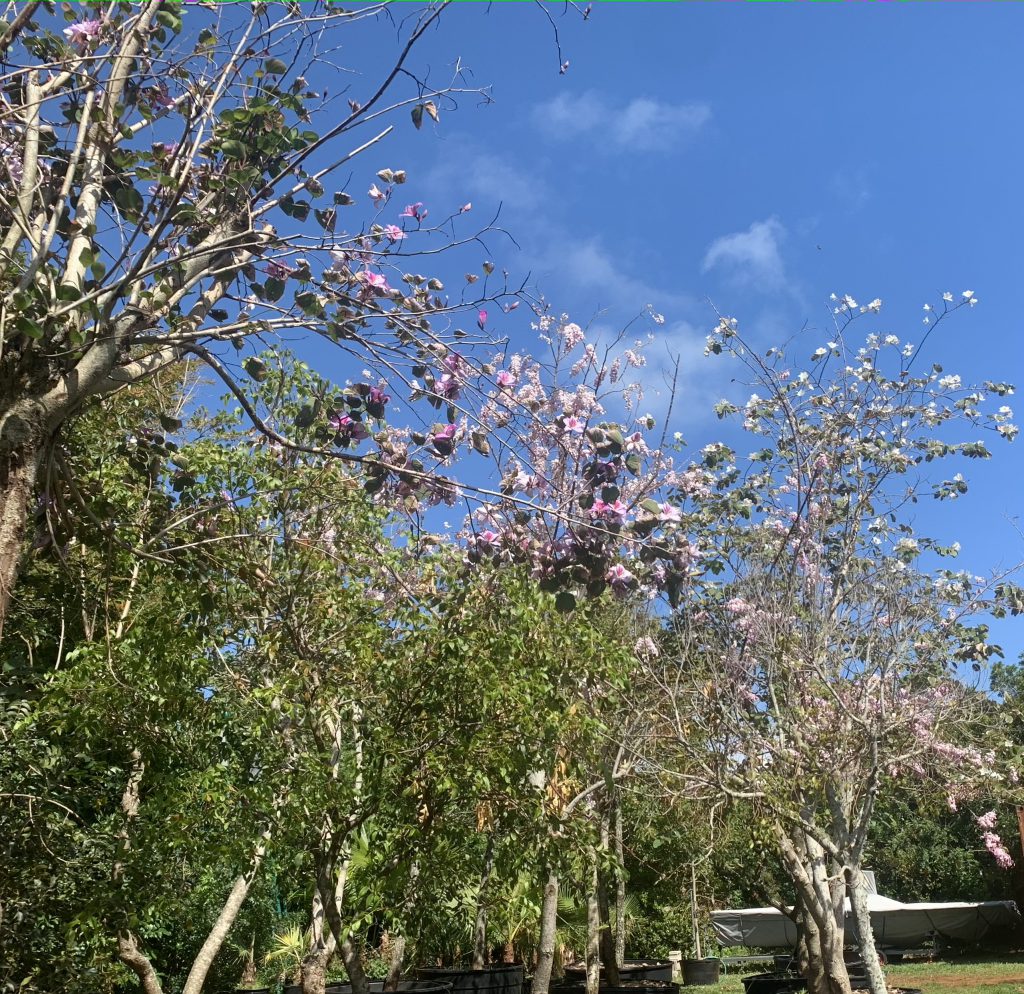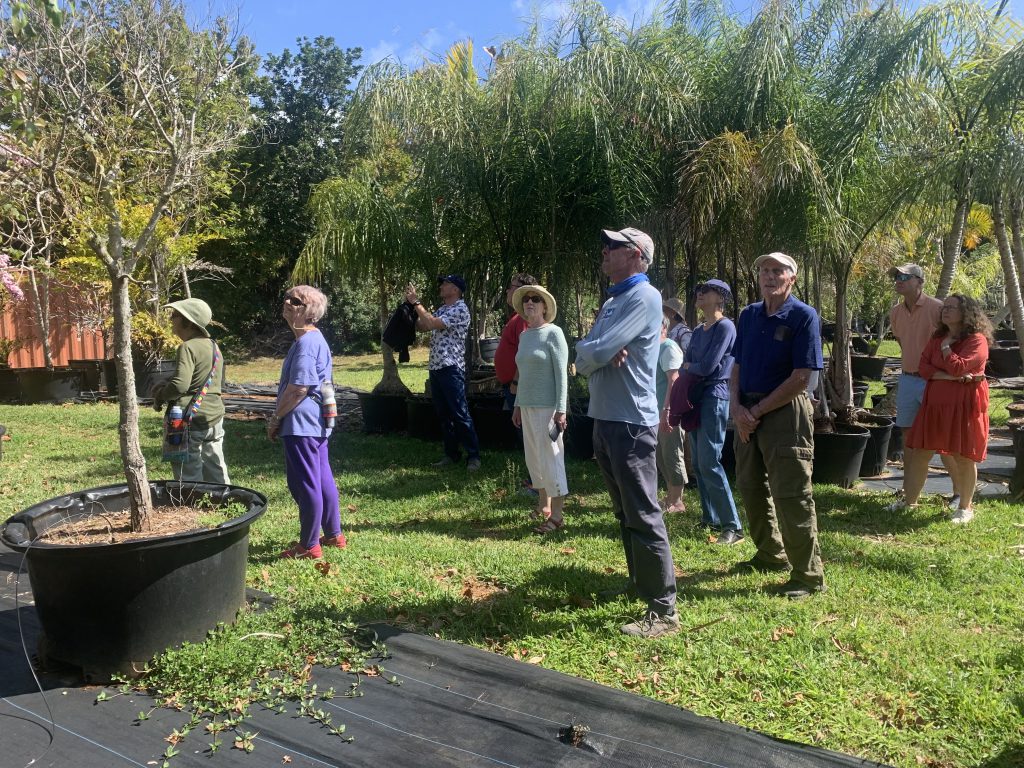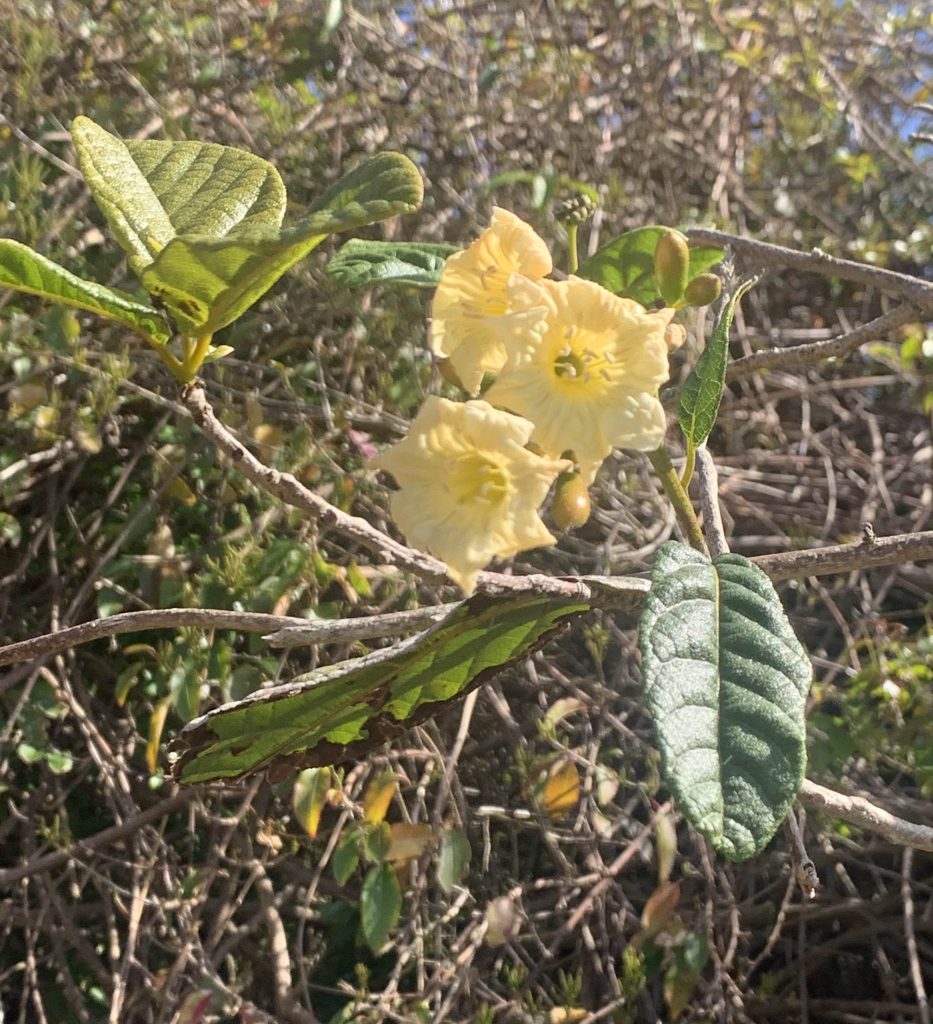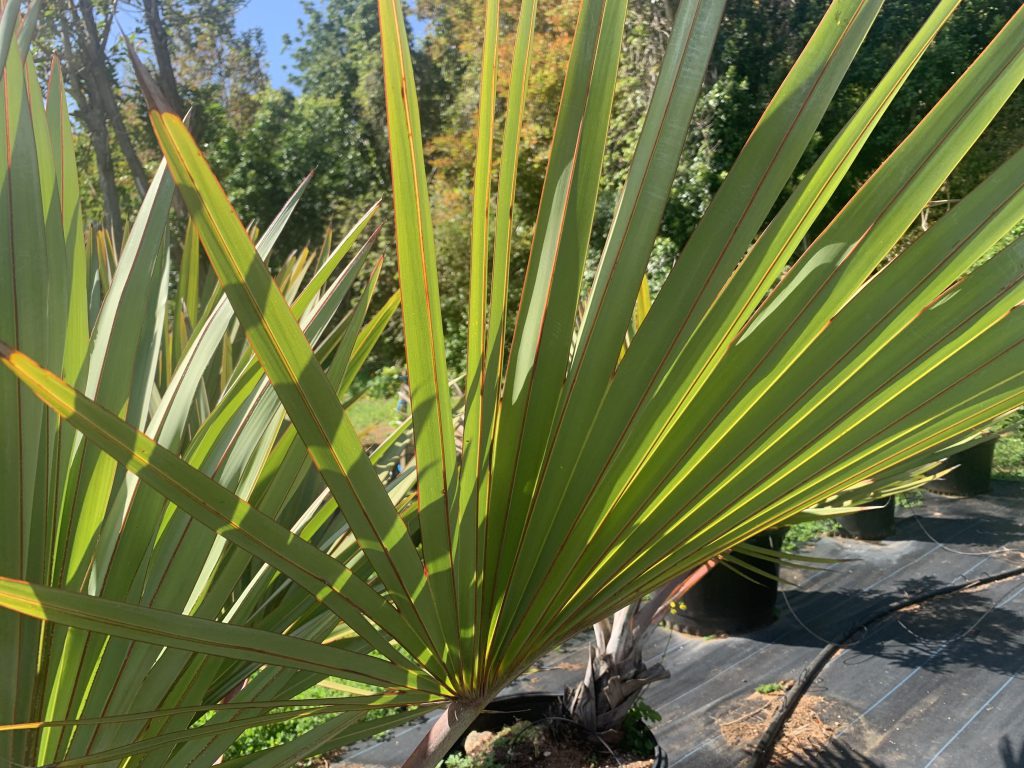 Keren's hillside garden (May 2023)
Weather couldn't have been better for a visit to Keren's hillside garden – magnificent views, 'jungle' trails past a host of interesting and unusual plants, numerous and varied fruit trees,lively discussion on propagation techniques and plant names – all accompanied by delightful bird song – vireos, catbirds, cardinals…
Palms of Hamilton (November 2022)
Tour Guide George P. pointed out a number of different species of palms that can be found around Hamilton. Palms seen included: Senegal date palm, Hat palm, Bermuda palmettos, Washingtonia palm, Manila palm to name a few.
Garden Visit (May 2022)
In early May, those that attended were lucky enough to tour the wonderful private gardens of the Chudleighs here in Bermuda. They have spent the last few decades removing invasive plants and planting native and endemic species. The birds, butterflies, and bees were enjoying the garden and were a welcome sight.
Guided walks (April 2022)
During April, members and friends of the Bermuda Botanical Society enjoyed an informative guided walk along the South Shore dunes, led by Lisa Greene.The South Shore dunes are an important ecological area, home to an interesting variety of native and endemic plants that have adapted in various ways to this harsh environment.
And many more…
---
Highlights from 2022:
BBS Plant Sale (December 2022)
The Bermuda Botanical Society held a plant sale in December 2022, at Windybank Farm, Middle Road, Devonshire. There was an amazing array of interesting plants – endemics, natives, citrus, ornamental, palms, orchids, succulents, vines – and some lovely ceramic pots! Thanks to all those who donated plants, time or purchases, and special thanks to Julie & Malcom from Windybank. It was very successful and monies raised will go to the Education Fund.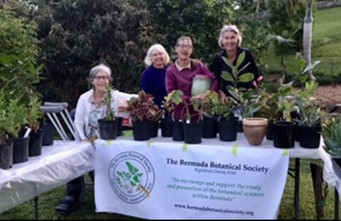 ---
Eve's Pond (March 2022)
Earlier in the year, the Bermuda Botanical Society (BBS) Taskforce changed locations and spent some time weeding and planting native and endemic trees at Eve's Pond, as part of the Bermuda National Trust's project. Many thanks to all those who attended, as well as to those that had the foresight to work on restoring this land to being a nature reserve.
Eve's Pond Reserve was opened to the public in April 2022, and the community are encouraged to come and enjoy the reserve.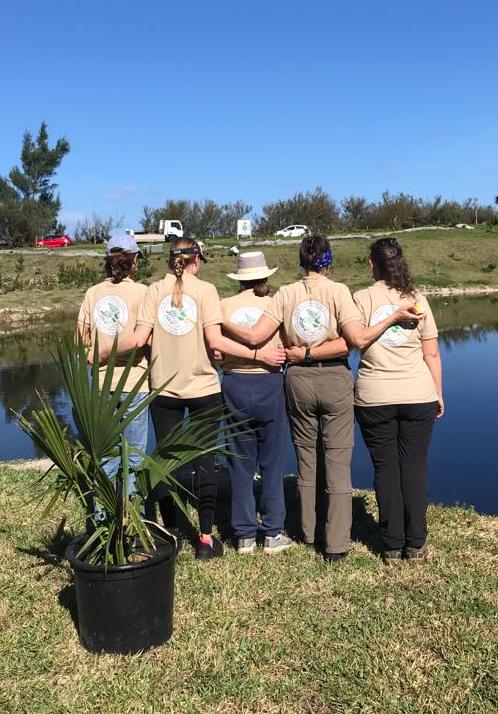 ---
70 for 70
The Queen's Green Canopy Campaign Oct 2021 to Oct 2022: 70 for 70 to celebrate QEII's 70-year reign
Initial Project: To support the Campaign to plant trees throughout the Commonwealth and which would also promote the importance of trees, open spaces, and raise awareness of climate change.
The BBS thought this was well worth supporting and joined in the initiative to plant 70 trees in various parks and reserves throughout Bermuda. Walsingham Trust, the site chosen in the initial campaign to be Bermuda's representative area for the Queen's Commonwealth Canopy will be one of the first areas to be planted along with Government House. Planting to be done by volunteers, Parks staff where applicable.
Owing to the very enthusiastic support by Government House this part of the project is well underway. A small area of invasives has been cleared to make way for approximately 70 native or endemic trees including the iconic Bermuda Cedar, Juniperus bermudiana and Bermuda Palmetto, Sabal bermudana along with Yellow Wood, Zanthoxylum flavum, Turkey Berry Callicarpa americana, Jamaica Dogwood, Dodonaea viscosa, Mulberry, Morus nigra and White Stopper, Eugenis axillaris.
The website for the Queen's Commonwealth Canopy programme is: https://queenscommonwealthcanopy.org/ and the website for the upcoming Queens' Green Canopy campaign is: https://queensgreencanopy.org/
Source of trees: Donations from BBS members, Tulo Valley Government nursery and other plant nurseries. BBS was very grateful to receive financial assistance from The Garden Club of Bermuda to assist with this project.
Timeline:
2021 BBS members growing trees in preparation for planting. Seedlings were obtained and are being raised by volunteers.
2021 Tree-planting at Government House in November 2021
2022 Jan – April Continue planting at other areas such as Walsingham, Bermuda Botanical Garden and Eve's Pond.